Concrete Coring
Services
Our Core drilling experts can also conduct efficient, swift, economical operations in busy areas like highways when medians need to be worked on, or in tight-fit areas like residential apartments, sensitive areas like nuclear/electric power plants, noise-free zones like hospitals/health-care facilities.
GET A FREE QUOTE
Why us
Efficient, swift & economical concrete coring operations
We offer a professional Concrete Coring service to ensure you get your services ran and complete your project on time and budget.
Download Service Proposal
Use the experts
Concrete Core drilling is an art and takes a lot of experience to master. Our experts have years of coring experience and have the expertise to carry out any size of core you are looking to complete.
The best core drills
We only use the best core drills available on the market, like the Husqvarna DMS 240, which we find both reliable and durable. Which means you can rest assured your core holes will be drilled on time and on budget.
Any size project
Due to our large team of operators we have the capacity to carry out large coring projects and have completed multiple large scale projects in the past.
Applications
Most common applications of our concrete coring services
Core Drilling
Hand Core Drilling
Stand Core Drilling
Inverted Coring
Angled Coring
Waste Control
Slurry Control
Mobile water supply
Equipment
PERFECT CONCRETE CORING EQUIPMENT
At Perfect Concrete Care we only use the best equipment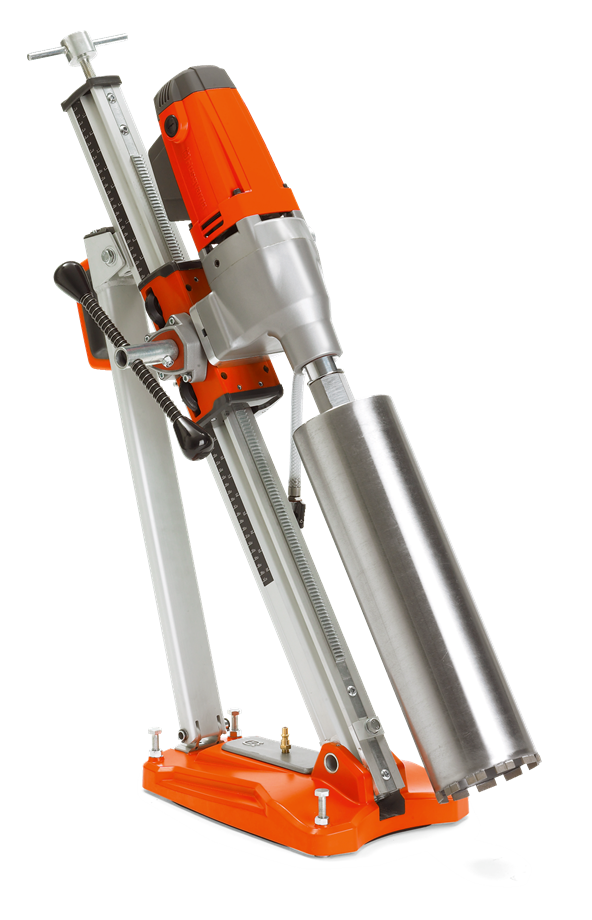 Husqvarna DMS240
An ideal system for medium core drilling in walls, floors and roofs up to 250 mm diameter
The back support provides reliable and stable angle drilling
This system can be used for drilling ventilation and plumbing channels, waste evacuation pipes, barrier and road signs
Husqvarna DM650 Hight Freq
The high power output, low weight, and intelligent design makes DM 650 the perfect choice for heavy-duty applications
Our most powerful and versatile electric core drill for drilling holes up to 600 mm diameter
18-step adjustable rpm range ensures optimal speed for all drill bit dimensions
WEKA DK32 Core Drill
High-performance, air-cooled motor with 3200W
The stand is tiltable, and features a convenient carry handle
Angle drilling barriers, channels, pipes and cables stitch drilling water evacuation
WEKA DK16 Hand Core Drill
Universal wet diamond core drill with a wide drilling range for rig operated and hand-held drilling
3-speed-gear with oil bath lubrication and overload clutch
Motor protection and soft start by means of the Intellitronic
TYROLIT Core Drill DME20
Extremely robust due to full metal body and 3-gear oil bath gearbox
Reliability and endurance based on mechanical and electronic overload cut-out
Universal application: hand-held/rig-based and wet/dry
Makinex Hose 2 Go
No Pump which means greater reliability
No complicated electrics to breakdown
A constant pressure water supply unit ideal for as a dust suppression tool and portable water supply
Traxx Slurry Rings
Collect all of the slurry generated during any drilling application
Standard wet vacuum cleaner and the ring will suck to the wall
Available in 5 sizes. WSR100, 150, 200, 350 and 350 mm capacity
Tyrolit VCE2000 Wet Vac
Stainless steel body container
Flexible hose with adapter for large attachments
Waste liquid capacity 80 litres
Projects
Concrete Coring at work
Pricing
CONCRETE CORE DRILLING PRICELIST
| DIAMETER (mm) | RATE/10MM DEPTH |
| --- | --- |
| 25 | 1.45 |
| 40 | 1.45 |
| 50 | 1.60 |
| 65 | 1.70 |
| 76 | 1.85 |
| 76 | 1.85 |
| 82 | 1.95 |
| 90 | 2.00 |
| 100 | 2.20 |
| 102 | 2.20 |
| 115 | 2.75 |
| 125 | 2.75 |
| 150 | 3.15 |
| 175 | 3.80 |
| 186 | 4.75 |
| 200 | 4.75 |
| 202 | 4.75 |
| 225 | 5.50 |
| 250 | 6.25 |
| 275 | 6.95 |
| 300 | 7.70 |
| 350 | 9.65 |
| 375 | 10.40 |
| 400 | 12.25 |
| 450 | 15.25 |
| 500 | 18.25 |
| 600 | 20.70 |
| 700 | 28.00 |
| 800 | 32.00 |
| Establishment & transport | 150.00 |
| Minimum charge | 350.00 + travel & establishment |
| Wet Vac / Slurry Bin | $100 / bin |
| Relocation | $30 per hole |
| Horizontal Surcharge | $15 per hole |
| Inverted Surcharge | Hourly |
| Excessive Steel ($/10mm) | $3.00 extra |
| Sandstone Cutting | $3.00 per / Lm |
| High Frequency Coring | +20% |
| Concrete Care Assistant | $65/ph |
Concrete Coring Calculator
Please note this is an estimated total and the final quote may vary slightly. $500 is our minimum charge which covers travel and establishment.
--
Establishment & Travel: Travel to the site and the initial site establishment.
Working hours: All rates apply to normal business hours 7am - 3pm (Mon-Fri). Additional surcharge of $55 p/h will apply if works are to be carried outside of these hours.
Stand down time/ Assistant: When the operator is required to stop works due to a delay in works/ areas not being ready for the operator.
Relocation: When the operator and tools are required to be moved from one location to another
Horizontal Surcharge: When the operator is required to core hole through horizontal substrates, i.e. block, brick and concrete walls/panels
Inverted Surcharge: When the operator is required to core over head through a slab/ soffit
Excessive Steel: When the Operator Identifies additional/excessive steel in the slab.
Wet Vac/Slurry Control: When the operator is required to supply an attachment to collect additional water/ slurry created by the core drilling
Parking: Client to supply parking.
Slurry Removal: POA
Weekend Work: POA
FAQ
What size core holes can you drill?
Our core barrels range from as small as 25mm right up to our large 800mm barrels. If you require a larger circumference core to be drilled can arrange them also.
How much do you charge for coring?
It all depends on how wide, deep and how many cores you need. We have a price list on our website that will give you a rough understanding of the cost involved.
Are you certified?
Yes all our operators are certified by the Concrete Sawing and Drilling Association (CSDA) and have years of experience carrying out complex core drills for our clients.
Is a water supply necessary for you to core drill?
If you do not have a water supply on site we can provide our Makinex Hose2Go water pump system to supply our core drills with a water supply.
Do you remove the concrete after it is cored?
Usually it is up tot eh client to dispose of the cored concrete. However we can provide a disposal service for our clients for an extra cost.
Is there a lot of slurry created with Concrete Core Drilling?
Yes there is usually quite a lot of concrete slurry created during the core drilling process as to keep the diamonds on our core barrels cool a water supply is needed. We can however provide slurry control solutions for our clients. We use Tyrolit suction pads around our core barrels, which we then attach our powerful slurry vac's to. This will allow us to control all the slurry created during the coring process.
Can you carry out inverted core holes?
We can provide you with inverted core holes however this will occur extra fee's as it is a lot harder on our operators and takes a lot longer to setup the core drill and core drill stand.
Do you need power on site?
If you have power available on site this would be beneficial but not necessary. We can provide you with our Makinex Petrol Generator to provide power to our core drills and slurry vac.
Do you offer your services outside of the Sydney Metro Area?
We do carry out projects for our clients outside of the Sydney Metro Area however there are extra travel costs applied, as there is a significant travel time for our operators.
Can we provide Safe Work Method Statements (SWMS)?
Yes of course we can provide a full set of S.W.M.S upon request. S.W.M.S are generally required for larger construction sites and we will provide site-specific documents as needed. We are happy to work with safety officers for any special requirements they might have.
WE PRIDE OURSELVES ON A SHARP FOCUS ON
SAFETY, QUALITY AND THE ENVIRONMENT
We strongly believe in providing a safe and healthy work environment for all our employees. Thus, we insure all our staff are trained to the highest standards to guarantee that we carry out the job safely, precisely and promptly.
ISO Certification
CM3 Certification
GreenStar Acreditation
CSDAA
Request a Quote
The best way to contact us is either filling out the form below or give us a call/ email. After contacting us we will send you an estimate as soon as possible, usually within 2 hours.